I haven't felt like posting for a bit because I'm not quite sure what to say. As I'm sure you are all aware our little state of Victoria has just suffered the most horrific bushfire disaster we have ever seen.
We are all in shock and just so incredibly sad that so many people and homes have been lost. I think
this
post goes some way to explaining it. But it's unimaginable really.
These
photos took my breath away and just made me cry.
I know many of you out there are thinking of us and it has been lovely to receive kind emails from people checking to see if we are all ok.
I am about an hour's drive away from most of the fires but know of many people who have been affected. We are all busy trying to think of ways to help and here a just a couple that you might like to consider too.
A collection of wonderful auction items are here.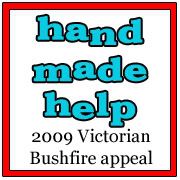 Rainbow Comfort Packs
for children.
The Toy Society
are collecting handmade toys.
Bushfire Quilt Project
Meet Me at Mikes
have a good list of all that's going on.
And of course they need money and every little bit helps. You can donate
here
.
A little prayer wouldn't go astray either for those who were lost, those who survived and all those who are still fighting the fires that are still burning.